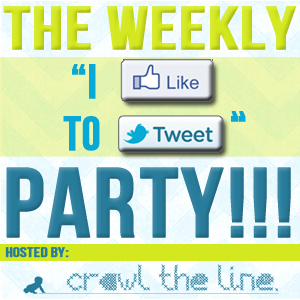 I'm co-hosting a brand new blog party this week! Isn't it exciting?
Crawl the Line is hosting a new Social Media blog hop, encouraging bloggers and blog lovers to like and follow each other's facebook and twitter pages! I'd love for you to join and it's really simple! Keep reading!
Introducing "The Weekly I LIKE to TWEET Party" or #like2tweet for short!!!
Today is a new day, bloggers, and as important as friends joining our GFC is, we also want activity happening on our social side of things too! Finding new blogs has become easier than ever with the help of Facebook and Twitter. So here's how it works:
This is a BLOG HOP, friends! But it's done through Twitter and/or Facebook Pages!
2. Follow Crawl The Line and 3 Co-Host Pages on Twitter
@christellasays on Twitter (Crawl The Line)
@BklynMamaLatina on Twitter (Mom in Love Forever)
@momethis on Twitter (Pattycakes and Pancakes)
@FindingMomtopia on Twitter (Finding Momtopia)
3. Add links to your Facebook Page, Twitter and Blogs Below!
4. (Optional) Follow Co-Hosts and other Blogs on GFC or Networked Blogs!